WE COULD NOT DO THIS WORK WITHOUT VOLUNTEERS LIKE YOU!
Thank you for your interest in volunteering at SFC! Last year, the Center's small staff distributed over 1.9 million pounds of food through our hunger relief programs.
Volunteers play a vital role in supporting every aspect of SFC's daily operations, from working directly with homeless and extremely low-income program guests, to helping organize donations of food and clothing, and even providing administrative assistance.
Having volunteers work the "front lines" of our programs solidifies their connection with guests and allows them to see firsthand how SFC meets the immediate needs of the families and individuals served.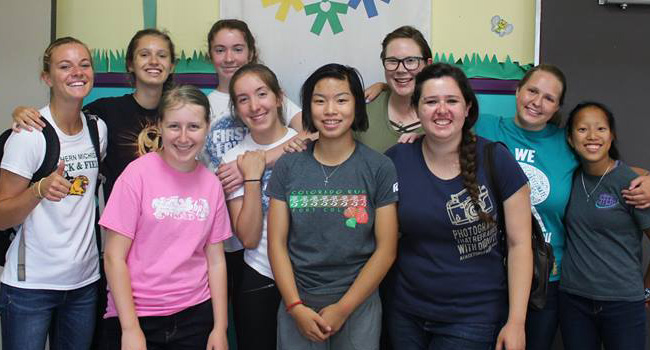 The following information will better acquaint you with our volunteer opportunities at SFC.
1. Getting Started
If you have not, fill out our Volunteer Application. All potential volunteers must complete the Volunteer Application and contact the Volunteer Coordinator directly via email before your volunteer opportunity at SFC. NO WALK-IN VOLUNTEERS WILL BE ACCEPTED.
Please follow the Sign-Up Genius links above to view and sign up for current volunteer opportunities. Our greatest need is for volunteers during our Tuesday – Friday breakfast program from 7 – 8:30 a.m. and Wednesday – Friday pantry program from 8:30 – 11:30 a.m. We are looking for volunteers who will be able to commit to volunteering on a weekly basis on a specific day, to help reduce turnover.
Please email us volunteer@sfcla.org if you have any questions.
All volunteer shifts must be confirmed with the Volunteer Coordinator. No walk-in volunteers will be accepted. Dates, times, and availability are subject to change without notice.
*Any inquiries about volunteering to fulfill court-mandated service need to first be approved by the volunteer coordinator and management.*
2. Donate safely and securely.
We ask our volunteers to make a donation to secure their first volunteer reservation. In these troubled times, every donation helps St. Francis Center fulfill its mission to care for the under-served men, women, and children of our community. You can donate by visiting our secure donation page or by writing a check to St. Francis Center with "Volunteer Donation" in the memo. However, please do not let this requested donation deter you from our volunteer opportunities; if it proves to be a financial burden, the Center can work out alternative giving opportunities at no cost to you.
3. Logistics, etc.
SFC is located at 1835 S. Hope St., Los Angeles, CA 90015, approximately two miles south of the Central Business district, one block from Los Angeles Trade Tech College. Our facilities are well maintained and safe.
Parking: Metered parking (coins and credit cards accepted) outside our Center.
Attire: Please wear casual, comfortable attire with closed-toe shoes during volunteer opportunities.
Age Restrictions: We are happy to host volunteers ages 8+ (parent/guardian supervision required for volunteers ages 8-13).
It is St. Francis Center's policy that volunteers DO NOT give money, medication, or rides to guests. If asked, volunteers should politely respond that we can't give out cash or rides. All requests for assistance should be referred to the Resource office.
COVID Policies and Procedures:
As part of our modified programs, we are reminding volunteers of the following:
To continue protecting our guests, staff, and volunteers, volunteers are required to wear makes while at SFC. Our guests tend to have less access to medical care and are more likely to be immunocompromised. Thank you for your understanding.
While SFC is taking additional measures to go above and beyond standard COVID-19 health protocols, please be aware there is always a small risk of exposure when going out.
We are scheduling fewer volunteers in order to safely execute our programs while practicing 6 ft distancing.
Masks are required before entering SFC, we do have disposable masks if needed. Handwashing stations, hand sanitizer, disposable gloves, and disposable masks are readily available if needed.
While we would love to have you volunteer with us, if you are feeling at all sick, please stay home and recover and we will see you when you are feeling better!
4. Cancellations
Our volunteers are very important to us, and we depend upon their generosity and support to serve our community. To ensure that our programs run smoothly, volunteers must notify the volunteer coordinator of any cancellation via e-mail or phone call at least 24 hours in advance of their volunteer opportunity reservation (72 hours for weekend reservations). If the volunteer coordinator is not notified in advance, we may restrict future volunteering.
We understand that visiting St. Francis Center may seem intimidating, but our volunteers have told us that their apprehension disappears once they experience the welcoming environment at our Center.
Here are the 4 reasons why you should explore volunteer opportunities at SFC!
MAKE A DIFFERENCE IN SOMEONE'S LIFE!

GIVE BACK.

BE PART OF ST. FRANCIS CENTER TEAM!

MAKE AN IMPACT. HELP US FIGHT HOMELESSNESS AND POVERTY.