Happy New Year from St. Francis Center!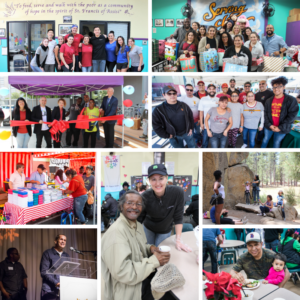 2018 was a very successful year for St. Francis Center! We helped more guests than ever before. Some highlights include:
Provided 100,000 meals to our homeless guests, and 22,500 grocery visits to our extremely low-income families.
Provided 5,200 showers to our homeless guests.
Started new partnerships with organizations, such as University of Southern California.
Launched new satellite pantries at Los Angeles Trade Technical College and University of Southern California for their low-income students.
Sent 422 youth from the families of our pantry program to summer camp at Camp Whittle in Big Bear, and Camp Bob Waldorf in Glendale and more summer activities/camps.
Hosted our annual Back-to-School event and provided backpacks and school supplies to over 200 children and their families.
Raised 70% more than last year through our 9th-Annual Friends of St. Francis Center event.
Hosted our annual Fall Festival to more than 50 families in our pantry program.
Hosted our first "Food Rescue for the Holidays" event.
Shared the joys of Christmas with over 1,000 families and a total of 2,500 kids through our Adopt-A-Family program and Gift Wrapping/Toy Distribution events.
Provided one-on-one case management for 47 guests.
Our wonderful volunteers served over 26,000 hours.
We can not thank our donors, volunteers, and partner organizations enough for helping us fulfill our mission to feed, serve, and walk with the poor as a community of hope in the spirit of Saint Francis of Assisi.
Here's to another year of Serving Hope!
2018 is almost over, but it's still not too late to make your end-of-year contribution!
Your support makes a big difference in the lives of our homeless guests and 
extremely low-income families. Donate today to not only support our programs for those in need, but also receive a tax deduction.