MEET DULCE!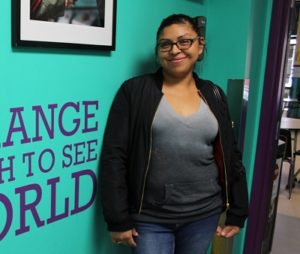 Please welcome our new Outreach Program Assistant, Dulce Suarez! She will be working with our Resource Specialist, Thalia, at the Cathedral of Our Lady of the Angels. Dulce was born in Mexico City but moved to Los Angeles when she was six years old, and has lived here since.
She has a degree in Infant Studies and Child Development from Los Angeles Trade Technical College, and is trained as a Health Promoter from the Esperanza Community Housing Corporation. In the past, she worked with Ascencia and Recycled Resources, providing services to, and advocating for, the homeless population. Dulce came across SFC while researching pantry services online. She wanted to work at the center because of the passion she saw in the staff and volunteers, and was excited by the variety of services that SFC provides.
"What motivated me to work at SFC was how welcoming everyone is, and the judgement free zone here. Their variety of services help families and the homeless who are in different stages needing support."
In the future, Dulce hopes that SFC will continue to educate, empower, and provide tools for the people in our community.
In her free time, Dulce likes to exercise and spend time with her family. She is a single mother of five children, and a grandmother of two!
Help us welcome Dulce!
We are in need of volunteers this week!
Available shifts:
– Wednesday, April 18:  Breakfast (7:00am-9:30am, 10 volunteers)
– Wednesday, April 18:  Pantry (9:30am-12:30pm, 8 volunteers)
– Thursday, April 19:  Breakfast (7:00am-9:30am, 7 volunteers)
– Friday, April 20: Breakfast  (7:00am-9:30am, 10 volunteers)
If you are interested in Serving Hope, contact Corinne, volunteer@sfcla.org or 213.747.5347 x 111.