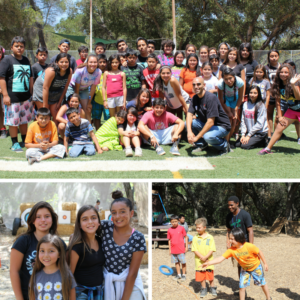 Every summer, SFC sends children of the extremely low-income families we serve through our pantry service to camp and our program staff have been working hard over the last few weeks to register youth for camp!
This summer, our goal is to send about 100 youth to overnight, weeklong camp once again. But due to the closure of Circle V Ranch Camp while they rebuild from last year's fire, we are now partnering with the Jewish Big Brothers Big Sisters of Los Angeles and will send about 60 youth ages 9-17 to their Camp Bob Waldorf in Glendale.
Our goal is to send about 40 youth, ages 7-9, to Camp Whittle in Big Bear as this camp accommodates younger campers.
Many local schools offer summer school for a limited amount of students, and parents cannot afford childcare. With weeks of unsupervised time during summer, our youth are at a higher risk for engaging in unhealthy, detrimental activities like being exposed to gangs, drugs, and violence.
Our Youth Summer Camp Program leaves a lasting impression on youth by connecting them with nature and engaging them in a variety of activities that open their eyes to new opportunities.
How can you help support summer camp?
Sponsor a child to go to a weeklong overnight camp ($250/child)!
Donate items needed for camp kits!
We provide everything needed for youth to attend summer camp, including camp kits with the following:

Contact SFC's development department at development@sfcla.org or 213.747.5347 for more information.