It's that time of year! The holiday season is officially in full swing. The holiday season is one of the most difficult times of the year for our guests and the need in our community becomes even more apparent. Read on for ways you can help support our hunger-relief and supportive services programs (most at no additional cost to you)!
---
Adopt-A-Family For Christmas!

Every holiday season, we partner up with organizations, churches, and families to provide gifts and toys to our pantry program families. You or your group can adopt any number of families and will receive a "holiday wishlist" for that family that includes details on each member. This wishlist includes things like toys, clothing, or household items. You can help give a family a magical holiday. Is there a better way to spread holiday cheer? We think not!

Questions or ready to adopt a family? Reach out to Ismael at ismael@sfcla.org or 213.747.5347 x. 108
---
Get Your Holiday Shopping Done and Support SFC Through Amazon Smile

It's easy to support SFC for free while getting your holiday shopping done. Make sure to shop through the AmazonSmile link and Amazon will make a donation to St. Francis Center! When first visiting AmazonSmile, you will be prompted to select a charitable organization in order to browse or shop. For eligible purchases at AmazonSmile, the AmazonSmile Foundation will donate 0.5% of the purchase price to St. Francis Center.
Already shopping on Amazon? Why not add a few things from our holiday wishlist to your cart!
---
Shop for groceries and show your support for St. Francis Center at the same time.
It's fast, easy, and FREE. Just link your Ralphs or Food For Less Rewards card to SFC and every time you shop a donation will go to the center!
Even if you've already joined and added St. Francis Center before, you will need to re-register once each program year, which started September 1st. Participants are required to register for the new term online at www.ralphs.com or www.foodforless.com.
1) Sign in or register online to access your account.
2) Click "Community Rewards" then "Enroll".
3) Search for St. Francis Center by name or our NPO# (TA215 – Ralphs, IV383 – Food For Less).
4) Click on the circle to the left of our name, then click Enroll again.
Don't forget to tell your friends about the program.
You can also donate your gently used brown grocery bags so we can fill them with nutritious foods for our senior pantry guests.
We thank you for your continued support!
---
Just $1 Can Show Your Support This Season – PayPal Makes It Easy!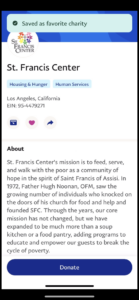 We appreciate your support all year long – and now PayPal is making it easy for you to think of us this holiday season.
Set us as your favorite charity, and every time you make an online purchase with PayPal, you'll have the opportunity to donate $1 to benefit St. Francis Center's programs. It's an easy and convenient way to have a big impact.
Visit our profile page on the PayPal Fundraising Site to set us as your favorite charity.
Setup is fast and easy: https://www.paypal.com/fundraiser/charity/2260570
Click the heart to set SFC as your favorite charity!
Thank you for your support!