And that's a wrap for our holiday gift wrapping and toy distribution events!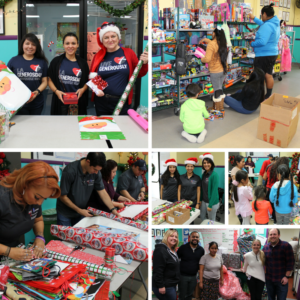 A big thank you to the following organizations for making our
Adopt-A-Family program possible, where families get Christmas wish lists generously fulfilled by these donors:
STAPLES Center employees
Cathedral of Our Lady of the Angels
EPIC
Punk Rock Marthas
St. Julie Billiart Church
A huge thanks to the following groups for sponsoring and participating in our gift-wrapping and toy distributions for the children of the near homeless families we serve:
SoCal Gas
Thrivent Financial
Alston & Bird LLP
St. Rita's Parish
 This holiday season, we shared the joys of Christmas with 319 families and a total of 833 kids who otherwise wouldn't have the means to exchange gifts.
Thank you all for serving hope to our guests in need this holiday season! 
Start the new year off right and come volunteer at SFC!
Available shifts:
-Wednesday, January 3: Breakfast (7:00-9:30am, 10 volunteers)
– Thursday, January 4: Breakfast (7:00-9:30am, 9 volunteers)
-Thursday, January 4: Pantry (9:30am-12:30pm, 10 volunteers)
-Friday, January 5: Breakfast (7:00-9:30am, 10 volunteers)
If you are interested in Serving Hope, contact the Development Department, development@sfcla.org or 213.747.5347 x 100.