Homelessness in L.A. County ↓ 3%
The Los Angeles Homeless Services Authority has released their annual homeless count. And for the first time in four years, homelessness has decreased in LA County and in SFC's service area of Metro L.A.
More people are moving into homes
Chronic homelessness has decreased by 16%
Youth housing placements increased 43%
However, our work is not done yet.
SFC's service area continues to have the largest number of homeless individuals in the county
Los Angeles has a growing affordable housing crisis
Homelessness has increased 22% among the senior population
 More people are falling into homelessness for the first time
Number of tents, make-shift shelters and vehicles being used for shelter increased 5%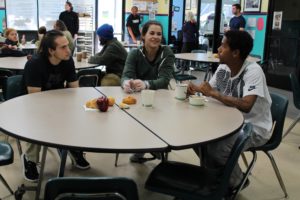 Our work is more important now than ever.
Last year was a record breaking year for SFC! We rescued 1.3 million pounds of food which allowed us to provide 130,000 homeless meals (more than double what we were serving five years ago) and over 18,000 grocery visits to families struggling with food insecurity – that's more than ever in our 45-year history.
Going beyond hunger relief, our programs provide long-term health and stability. Last year, we implemented a new case management component of our Resource Services for our homeless community and low-income families that focuses on housing, employment, rental and utilities assistance.
What can you do to help?
Volunteer
Check out our Volunteer Needs Calendar or contact volunteer@sfcla.org or 213.747.5347 x 111.
Donate
$70 will feed a homeless individual for a month
$260 will feed breakfast to 225 homeless guests for a day
Click here  if you'd like to donate!
Spread the word about SFC!