MEET JAIRO!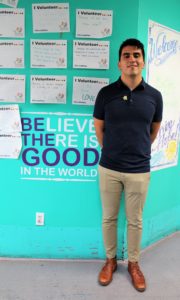 Please welcome our newest staff member, Jairo Gomez, who will be our Programs Coordinator at our Satellite Pantries!
Jairo is a native SoCal resident, born in Mar Vista and raised in the San Fernando Valley. He has a Bachelor's degree in Psychology from the University of Southern California.
Prior to SFC, Jairo worked in medical billing, as well as interning with a few non-profit organizations, including 826LA and Parent Revolution.
 Jairo wanted to work at St. Francis Center, because he had been volunteering with a non-profit, called Family Promise of Santa Clarita Valley, which focused on assisting homeless families. He became interested in the issue of homelessness, and began looking for similar organizations where he could make a difference.
"My hope for St. Francis Center is that we can provide long term solutions for the people we serve, whether it's helping them find employment or accessing necessary resources, and in the process, providing nutritious meals while we work to help them find self-sufficiency."
In his free time, Jairo enjoys hiking, going to concerts, playing board games, and exploring different Los Angeles neighborhoods!
Help us welcome Jairo!
We are in need of volunteers this week!
Available shifts:
– Thursday, September 6: Breakfast (7:00am-9:30am, 5 volunteers),  Pantry (9:30am-12:30pm, 10 volunteers)
– Friday, September 7:  Breakfast (7:00am-9:30am, 10 volunteers), Senior Pantry (9:30am-12:30pm, 3 volunteers)

If you are interested in Serving Hope, contact volunteer@sfcla.org or 213.747.5347 x 111.