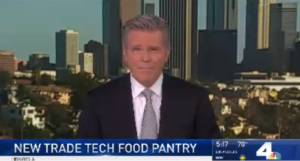 LOS ANGELES –St. Francis Center Los Angeles (SFC) officially launched its weekly satellite pantry on Tuesday, May 15 at 10:30 a.m. to provide free fresh, nutritious groceries for students of Los Angeles Trade Technical College (LATTC).
According to LATTC's president, Laurence B. Frank, 30% of students are homeless, and 60% struggle with food insecurity. Food insecurity is an issue facing many L.A. residents in addition to college students. In fact, according to Feeding America, LA County is home to the largest estimated population of food insecure people at 1.5 million. The satellite pantry will not only provide hunger relief for LATTC students, but also provide access to SFC's other services such as case management and emergency shelter which will help students get on a long-term path to stability.
This satellite program expansion at LATTC is made possible thanks to the City of Los Angeles' recycLA program, a citywide approach to waste management that included food waste reduction, composting and food recovery. Through recycLA, SFC has been able to partner with waste haulers and connect with many new businesses who have donated over 350,000 pounds of additional food in the just the past eight months. This food has been utilized to prepare meals and groceries for our homeless community, senior citizens, local families, and now students. The goal now is to take these additional food donations and create additional satellite pantries in food insecure communities throughout Los Angeles. This new partnership also has positive environmental effects by diverting waste from landfills and reducing greenhouse gases.
Last year was a record-breaking year for St. Francis Center regarding the amount of food rescued and the number of guests served. We rescued 1.3 million pounds of food which allowed us to provide 130,000 homeless meals and over 18,000 grocery visits to families struggling with food insecurity – that is more than ever in our 45-year history. This year we are on pace to surpass those numbers thanks to recycLA and the expansion of our services.
Help support our pantry services and new satellite pantry!