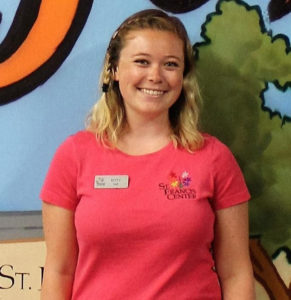 From the Desk of Kitty Powers,
SFC's Resource Specialist:
For over a year, St. Francis Center has held several art contests featuring an ongoing display of art from our guests on the walls in our front program room. The art wall has been an inspiration to our guests who have expressed interest in being able to learn more about art and have an opportunity to be creative in a safe space at SFC.
After several weeks of preparation, SFC's staff put together our first Art Workshop for our Homeless Well-Being Program guests and it was a success! Noah, one of our regular breakfast guests who works toward empowering other artists in the community to use recycled materials to create art and jewelry, offered his services as the workshop facilitator. He describes himself as a pioneer in his community in creating mixed media and other conversational pieces, such as coffee tables, re-purposed lamps, and acrylic paintings.
One guest, Bert, described the workshop as a stress release from his everyday hardship of living on the street. He started out by drawing a mountain scene and then worked meticulously for about an hour using different colors to shade the scene. He named the piece, "Within the Wild."
Other guests also worked on individual projects and felt very thankful to have the space and time during the workshop to be worry free.
SFC's staff hope to offer this Art Workshop and safe space bimonthly after our breakfast program as part of our ongoing efforts to not just serve meals, but also serve hope to our guests.
Will you help us continue our mission of Serving Hope to those experiencing homelessness? A donation of just $5.75 can feed someone in need. Your support also can help make our next art workshop possible! Click here to help now!