As a way of showing appreciation for our amazing partners, Helping Hands, we want to introduce you to the woman who made it possible.
Meet Carlin, a Helping Hands volunteer who focuses on outreach and partnerships. In response to the pandemic, and equipped with a professional background in community engagement, Carlin searched for opportunities to be a part of the solution to COVID.
What is your job?
Outreach and partnership, usually with pantries and specialized food distribution.
How did you become involved in Helping Hands? How long have you been a part of it?
My partner heard about it when it first started. Helping Hands began around March 15th, when news of the pandemic began to spread. I wanted the opportunity to be a part of the solution and help my neighbors. With my background in Community Engagement, I knew I had the skills to fit the need.
How did you hear about St. Francis Center?
We worked with a satellite partner Hubert Humphrey health clinic and I was introduced to Lucia, and the relationship took off from there.
What is your favorite thing about this program?
The scale of impact that we make in the community. Being able to help food pantries and food banks meet as many people as possible. We get to help increase their scale. It's definitely a highlight of my week.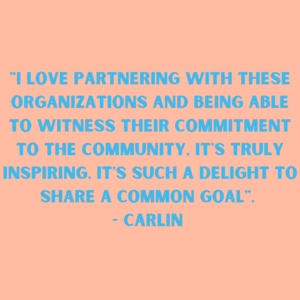 What kind of impact do you think we've been able to make?
We've definitely made a large impact! In just over a year we've been able to deliver 51,000 households with helping hands within the Los Angeles area. And that's including up to 10 meals within each box. Not to mention the lasting impact that we will make as we expand nationally and add more partnerships.
How has your experience with St. Francis Center been?
Amazing! Seeing the commitment St. Francis has to community members inspires me to meet their mission. We have a relationship that's very collaborative and you guys have grown with helping hands, helping us develop new projects and services. It's such a delight to have such a collaborative relationship where we share the same goal.
Anything else you'd like to add?
Helping Hands is a 100 % volunteer-based organization. Everyone dedicates their time and skills. It's our goal to make this program and affordable as possible to all of our partners.